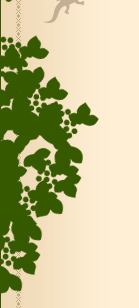 Bewitched celebrations

We also have a pleasant banquet room that seats 120 people. In the middle is the Witch's Throne, the place for the guest of honour. The star of the photos is tomcat Rūdis Rūsiņš.
The meal should be arranged beforehand with the chef of Raganas Ķēķis
If you want to enjoy a delicious meal at your place don't worry
and just make a call to order and
"Raganas ķēķis" will come to serve your party !


The herbal sauna

If you want to get your blood flowing again, Raganas Ķēķis offers a complex of baths with a Herbal Sauna, steam cabin and mini pool with water and air massage. And there's an adjacent guestroom with a bed. Our Herbal Sauna can take a group of 10: two hours cost 25 lats, with 10 lats for every additional hour (i.e., 35 lats for three hours, and so on).

You'll want to return

Raganas Ķēķis will put you in a wonderfully cheerful, even light-hearted mood, just as in childhood. To begin with, this may seem be on account of the delightfully mischievous interiors by artists Madara Līviņa and Kristīne Linde, and woodcarver Andris Kosa, who has created not only a life size witch, but also a whole horse and cart. But in the end you'll come to understand that the real source of satisfaction is the innkeeper's attitude towards the guests – at every step, he strives to make visitors feel welcome.